National Cheeseburger Day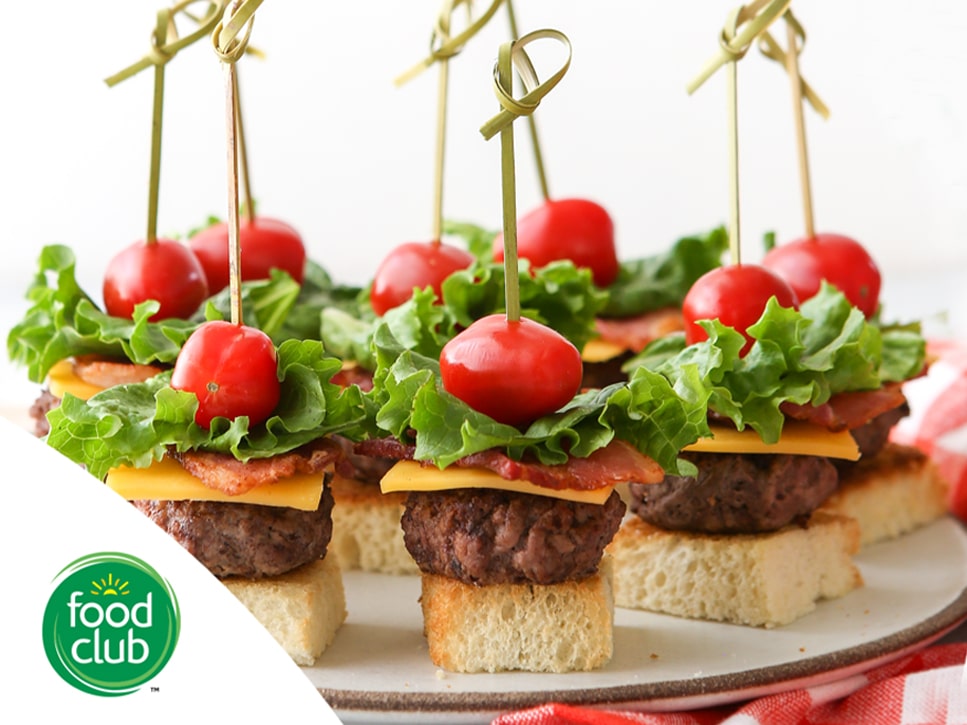 Recipe Sponsored By: Food Club
Ingredients
4 slices bacon, cut into 4 pieces

1 lb ground beef (80% lean 20% fat)

Salt and pepper, to taste

4 slices white bread, each cut into 4 pieces

16 small squares cheddar cheese

2 cups loosely packed green leaf lettuce, torn into small pieces

16 cherry or grape tomatoes 
Dipping sauce (optional)

1/3 cup mayonnaise

3 tablespoons ketchup
INSTRUCTIONS
Cook bacon in a skillet over medium high heat until crispy, about 3-4 minutes on each side. Transfer to a paper towel lined plate to drain.
While bacon is cooking, prepare the ground beef. Portion into 16 equal pieces and shape into a small patty about 1 inch thick. Season with salt and pepper.
Once bacon is done, cook beef patties in the skillet until browned and cooked all the way through, and an instant read thermometer inserted into the center reads 165°F, about 3- 5 minutes per side.
While burger patties are cooking, toast bread cubes under the broiler for 1-2 minutes until lightly toasted. Watch carefully so they don't burn.
To assemble the skewers, pierce a cherry tomato with a toothpick or mini skewer, followed by a small piece of lettuce. Stack a toast, burger patty, bacon, and cheese together and then stick the prepared skewer through it.
Repeat with remaining skewers and serve immediately.
To serve with the dipping sauce, whisk mayonnaise and ketchup together until smooth. 
Store any leftovers in the fridge.
Notes:
To make ahead, keep burger patties and bacon warm in a 200°F oven and cover toasts with plastic wrap so they don't dry out. Assemble skewers right before serving.
You can also spread a little of the dipping sauce on the toasts before assembling, if desired.
Yield: 8 servings
Prep Time: 15 minutes
Cook Time: 15 minutes
Total Time: 30 minutes